AnneMarie, of Generation X Quilters, one of my Blog-land friends who I actually see at Quilt Guild Meetings because she lives nearby, is hosting a Blog-Land Fair and I am joining the Festivities...
Fairs are known for their food, so here is a favorite summer salad recipe that is SUPER EASY to make, and tastes DELICIOUS. My wife's cousin was the first to serve this at one of our family gatherings, and it has become a staple, go to salad for all "Bring a Dish" gatherings.
Oriental Salad
Salad Mix
1 - 16 oz Package Angel Hair Coleslaw
2 - Carrots, shredded
1/2 cup Sunflower Seeds
1/2 Cup Sliced Almonds
2 Packages Chicken Ramen Noodles (DRY)
Dressing Ingredients:
3/4 Cup Olive Oil
1/2 Cup Sugar
1/3 Cup Cider Vinegar
2 Seasoning Packets from the Ramen Noodles
Before opening the Ramen Noodles, crush the blocks of noodles into small chunks. Pour Ramen Noodles into a large Salad Bowl and retrieve the seasoning packets. Break up any chunks that remained stuck together and large.
Prepare the Dressing by combining all Dressing Ingredients in a small sauce pan and bring to a boil, stirring regularly. Once boiled, remove from heat and put in Refrigerator to cool (about 10 minutes).
Add the Salad Mix ingredients in the large bowl with the Ramen Noodles. Toss Salad Ingredients.
After about 10 minutes, Pour cooled (not cold) dressing over Salad Mixture, Toss Salad and serve immediately.
For presentation: Sprinkling another 1/4 cup of Almonds over the Salad or on top of individual servings is also a good idea... Especially if you like Almonds!!
(Personally, I think I put a full 1/4 cup on top of my individual serving... Don't tell my wife.)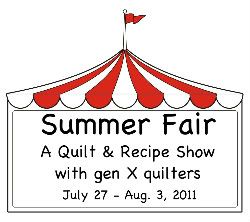 Go on over to
Gen X Quilters
and check out the other Food and Quilt Entries... I'll post a Quilt Entry tomorrow.
Until Next Time,
Paul