Bonnie Hunter is at it again, and for some reason, I can't resist.
Orca Bay
, here I come!!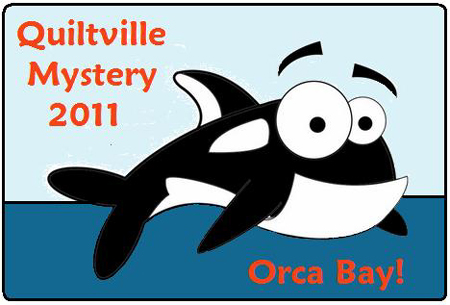 I don't know what it is about Bonnie at
Quiltville
that draws me so, but I must admit, she does. I follow what she is doing, what she is working on, where she is teaching next, etc.
I sound like a stalker or something, don't I?! Oh, well, So be it. I'm not a stalker, but I AM a huge fan.
There are several reasons this might be true:
Bonnie's blog was the first quilting blog I ever read. A Google search landed me on her blog somewhat randomly due to her "Scraps and Shirt Tails" book. (I was searching for how to make a quilt out of old t-shirts.)
The first "Blogging Give Away" I ever won was a book from Bonnie's blog.
Bonnie's tutorials are extremely well written.
Bonnie writes from her heart. She shares who she is. Her blog is part of her business but it is also part of her life. And she is not ashamed to share her life with the thousands of people who read her blog.
What is really ironic, is that my quilting style and Bonnie's quilting style really don't match. I tend to be very anal about things like fabric choice, and colors matching exactly. In my "Stars and Stripes" quilt, I had 19 different fabrics, I literally spent a month of lunch hours traveling to different shops until I found all of the fabrics that I wanted to use.
Bonnie's approach is quite different. She is a scrappy quilter. "Don't Worry about the print, if it's BLUE, it's BLUE, just USE IT!!" would be something you could find in one of her tutorials. Someday I will have bins of scraps and I will be able to more easily embrace that sentiment. Maybe.
Until then, I'll do her mystery quilts by purchasing fabric needed to do the quilt. I was going to use old shirts this year, as I did last year, but I couldn't find enough black shirts at the Thrift Shop... So, I purchased a bunch of FQs and I am now ready to begin "catching up". I'm already a week behind!
If you are doing Bonnie's Orca Bay, please leave a comment with a link to your photos or blog if you can. I would love to see what you all are working on.
Give Away Notice...
Lily Pad Quilting is holding a giveaway of a Go! Baby... Click on the link below to go to Lily Pad Quilting and enter the giveaway...

Until Next Time,
Paul